We all want to be happier but how do we achieve it? And do we even recognise what makes us happy? With an overwhelming rise in mental health issues 'Happiness, A Sceptics Guide' seeks to address a vital issue: understanding and improving your wellbeing. Join your hosts, serial self-help-abuser and professional sceptic Paul Flower and psychologist and author Dr Gary Wood on an epic quest, to navigate the vagaries of the world of wellness, in pursuit of happiness and how to hold on to it. In fortnightly short bursts, 'Happiness, A Sceptics Guide' aims to sift the 'science from the snake-oil' and sort the breakthroughs from the fake news to find out what works, what doesn't and what's just hype. Is happiness about the journey or the destination? Is it about the good life or finding meaning in life? What are the short-cuts and hacks? And should it really have taken a pandemic to get these two to work together? 'Happiness, A Sceptics' guide aims to inform, entertain and bring you happiness whatever your objections!
Episodes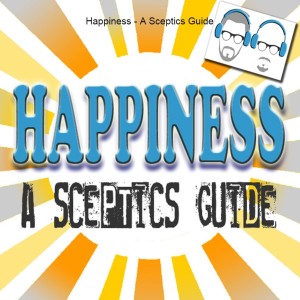 Sunday Feb 06, 2022
Sunday Feb 06, 2022
In this bonus review episode (Ep.21), Paul Flower and Dr Gary Wood look back over the previous five episodes of the Happiness, A Sceptics Guide podcast on the theme of making the happiness insights stick, to formulate a personalised happiness development programme.  In the four (of the five) episodes, the podcast explores the theme of storytelling:
Telling Better Happiness Stories (Ep15)
Happiness and Christmastime Survival Tips (Ep16). Bonus Episode
Happiness, Goals and Resolutions (Ep17)
Happiness, and Trust and Truth and Blue Monday (Ep.18)
Happiness and Best Future Selves and Bucket Lists (Ep,19)
The present episode concludes with ideas from Paul of what the podcast should discuss next to keep the narrative moving in a worthwhile direction.
Please like, subscribe and share, wherever you find your podcasts. And if you'd like to make a small donation to the production coffers of Happiness, A Sceptics Guide, please visit  BuyMeACoffee or Auphonic.